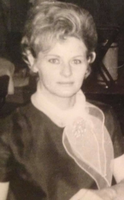 Joann Marino
Joann M. Marino of Cape Coral, FL passed away unexpectedly on Thursday, May 23, 2019 in her daughter's home in Cape May, NJ. She was born on January 12th, 1941 in Pennsauken, NJ to the late Isaac and Gladys Greene.
Joann was the epitome of a big heart - she left a lasting impression on every single person that she met and unfailingly put the needs of others first. Her first and main priority in her life was consistently her children and their happiness. But above all, her grandchildren were her pride and joy and the absolute light of her life. Joann had many nicknames amongst those whom loved her the most: Yang, Grandma Jo, Josie, JoJo, Rosie, and Jo. Running a close second to her children and grandchildren were her four-legged "kids". She loved every single one of her children's pets like they were her own. Anyone who knew Joann knew her world truly did revolve around her children, grandchildren, and pets. Joann retired from Cooper Hospital in 2006 as a Staffing Coordinator where she earned the love and respect of all of those whom she worked with. Before her post-retirement move to Florida with her daughter Mae, she received a beautiful retirement party from the Cooper team which truly meant so much to her. After retirement, Joann treasured all the time she spent visiting her children and the time she got to spend with her grandchildren. The simple things in life meant the world to Joann: she cherished graduations, birthdays, decorating for the holidays, playing 500 rummy, and sending cards to show those she loved how much they meant to her. Some of her passions included spending time at the beach, reading, and watching the NFL draft. Joann was a diehard Philadelphia Eagles and Florida State Seminoles fan.
In addition to her parents, she was preceded by her sister Elizabeth Orth and brother William Greene. Joann was survived by her daughter Dr. Denay Marino of Cape May, NJ, daughter Robin Chernouskas and her husband Joseph of Pittston, PA, son Anthony Marino of Wildwood, NJ, son Nicholas Marino of Cape May, NJ, and daughter Filomena (Mae) Stenger and her husband Donald of Cape Coral, FL. She was additionally survived by grandchildren Morgan Stenger, Brandon Chernouskas, and Anthony Marino as well as many nieces and nephews whom she adored. Joann was the definition of one of a kind and will be remembered by all that knew her as genuine. There are no words to describe how dearly she will be missed by all that knew and loved her. We find peace in knowing that she is looking down on all of us with a smile on her face surrounded by those who she desperately missed and loved.
In lieu of flowers, please make donations in Joann's memory to your local animal shelter. A memorial service for Joann will be held at 4pm on Saturday, June 1st at the Evoy Funeral Home at 3218 Bayshore Rd, North Cape May, NJ 08204. Family and friends will be received one hour prior to service from 3-4pm. Condolences can be shared at www.EvoyFuneralHome.com.