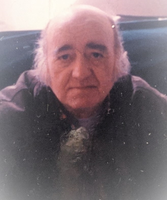 Charles ""Scotty"" Collins
Collins, Charles "Scotty", age 87 of Villas, NJ, passed away on Friday, January 18, 2019 at his home. He is the son of the late Charles and Mary McBride-Collins. Born in Gourock Scotland, he came to the Untied States in 1957 and naturalized in 1963. He served in the Korean Conflict under the British Infantry, Scottish Battalion. Formerly of Philadelphia, he was employed with Food Fair Corporation in Philadelphia before moving to Villas in the 1970's where he last worked at Menz Restaurant. He was a 3rd degree Knight of Columbus with Stella Maris Council #3546 of Erma. A devout catholic, he was a faithful member of St Raymond's Church, Villas, where he had served as a Good Samaritan and usher. Fondly known as "Scotty", his family consisted of his close friends Sarah Stolz, the Rader family – Richard, Teresa, Richard Jr and Angela, and his many St. Raymond's parishioners.
Friends may call Saturday, January 26, 2019 from 9am - 10:15am at the Evoy Funeral Home, 3218 Bayshore Rd, N Cape May, followed by an 11am Mass of Christian Burial at Parish of St John Neumann, St John of God Church, 680 Townbank Road, N Cape May. Interment will immediately follow mass at St. Mary's Cemetery, Cold Spring. In lieu of flowers, donations may be made to Good Samaritans, c/o St. John Neumann Parish. Condolences can be shared at www.EvoyFuneralHome.com.