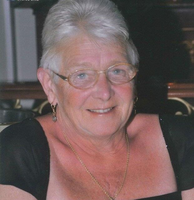 Mary Kate Polischuk
Mary Kate Polischuk (Welge), 70, of Wildwood, NJ passed Saturday, November 24, 2018.
Mary Kate Polischuk was born in Yonkers, NY. December 21, 1947 to parents Norbert and Marie Welge (Hunt). One of seven siblings, Mary Kate was blessed with a large family whose support and love knows no bounds.
Preceded by parents Norbert Welge, Marie Welge, and brother Richard Welge (Johanna). She is survived by her life partner Dino Conzalaro, her daughters; Denise Conrey (Kevin) and Kimberly Polischuk, her siblings; William Welge (AnnMarie), Patricia Gibson (Ross), Gary Welge (Evelyn), Norbert Welge (Mary), Stephen Welge (Donna); 7 Grandchildren, and 6 Great Grandchildren.
Mary Kate had many accomplishments in her life... Professionally, Mary Kate began her career employed on Wall Street,
she worked in an administrative capacity for the Wildwood Convention Center, and most recently for Great West Insurance.
Mary Kate's journey through life is best represented through her relationships. The love shared between Mary Kate and "her Dino" for over 40 years couldn't be described and anything less than amazing.
The bond she had with her "oldest" daughter Denise and "baby girl" Kim was strong and deep. She cherished her brother's, sister, in-laws (who truly were her sisters and brother). Mary Kate's nieces, nephews, grandchildren and great grandchildren held a special place deep in her heart. It was often said that she lived for the children. Mary Kate stated time after time that our family could only be described as unique and special, and that what we shared was rare. In her words "there is no other family like ours".
Mary Kate was a strong woman, opinionated, a lover of life. She lived in the moment and never took a single breath for granted. Mary Kate was a music enthusiast, she would say "happy people sing". She was a fan of Jimmy Buffett, his music, books, and life philosophy. She attended countless concerts and passed her appreciation onto her children and grandchildren.
Mary Kate was selfless. There was never a time that someone had a need that she wasn't there to help. This began at a young age with her siblings and continued throughout her life journey. ?Mary Kate was a light and life force for all she touched. She will be greatly missed by all.
Service will be held at 11am on Thursday, November 29, 2018 at Church of St. Ann's, 2901 Atlantic Avenue, Wildwood; friends may call during visiting 1 hour prior to service from 10am – 11am. Burial will follow service at St. Mary's Cemetery, 1056 Seashore Rd, Cape May. Condolences can be shared at www.EvoyFuneralHome.com.