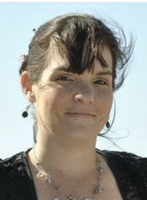 Kathryn Rose Faith Mahoney
Mahoney, Kathryn Rose Faith, age 34 of Port Norris, formerly of Woodbine, passed away on Wednesday, March 28th. Kathryn graduated from Cape May Co Vo Tech, studied at Grand Canyon University, and enjoyed cooking for her family; she was a great mother and wife. She is survived by her husband, Matthew Mahoney, Sr, son Dylan Mahoney, step children Veronica Mahoney, Matthew Mahoney Jr, and Justin Mahoney, step-grandson Jackson Adams, parents Michael and Theresia Corea, Sr, grandmothers Ellen Corea and Sharon Patterson, sister Amy Nichole Lloyd (Alfred), brother Michael Corea, Jr., and many nieces, nephews, aunts, uncles, and cousins.
A memorial service for Kathryn will be held at 2pm on April 14th, 2018 at the Evoy Funeral Home, 3218 Bayshore Rd, N Cape May; friends may call 1 hour prior to service from 1pm-2pm. Contributions can be made in Kathryn's memory to Guillain Barre International, 375 East Elm Street, Conshohocken PA.