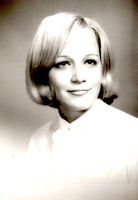 Anne P. Horstmann
Anne Paula Horstmann (nee Hughes), age 65 of Woodbine, NJ, widow of J. Robert Horstmann, and preceded in death by her parents Frank and Catherine Hughes, Jr.
Anne graduated from St. Hubert High School and Gwynedd Mercy University. Anne retired as a nurse after working at Cape Regional Hospital for over 30 years.
She is survived by her son Brian Horstmann, her daughter Jody Conway (John), and grandchildren Abigail and Eva Rose, brother Michael (Amy) Hughes, sister Charlene (Bob) Ritchie, and sister-in-law Lynn Scogna, aunt Sister Marie Charlene Hughes, IHM, uncle Edward (Marie) Hughes, 3 nephews, 1 great-nephew,1 great-niece, and numerous cousins and many friends.
In lieu of flowers donations to be sent to St. Hubert Catholic High School for Girls, 7320 Torresdale Ave, Philadelphia, PA 19136 and Camilla Hall, 1145 King Rd, Immaculata, PA 19345.
A scholarship fund will be set up in Anne's memory for a senior student wishing to pursue a nursing career from St. Hubert High School.
A Celebration of Life Service will be held at a later date.