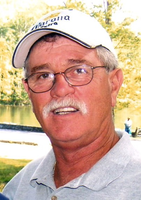 Paul Nonemaker
Paul J. Nonemaker died at his home in Villas on March 5th at the age of 71.
Paul J. Nonemaker is survived by his loving wife of 45 years, Veronica and children, Kirk, Laurie (Jamie) and Melissa (Tom), and nine grandchildren, Sammy, Kirk (Brielle), Haley, Morgan, Tony, Rylee, Kylie, Savanah and soon-to-be-arriving Abigail; 2 great grandchildren, Sawyer, and Ayla. He is also survived by his brother Richard (Anne). He was a brother-in-law, uncle, and great uncle to a large family who loved him dearly.
Paul was born and raised in Philadelphia, attended Frankford High School, and served in the Army in Vietnam, he served as a Philadelphia Police Office, and retired from the Philadelphia Fire Department after thirty years of dedication and service as and EMT and firefighter.
In his free time, Paul enjoyed hunting, fishing, golfing and playing shuffleboard, and also enjoyed his annual Fourth of July Family Backyard Barbecues.
A service for Paul will be held at 11am on Friday, March 9, 2018 at Evoy Funeral Home, 3218 Bayshore Rd, N Cape May; friends and family may call from 6pm-8pm on Thursday, March 8th at Evoy Funeral Home, and again Friday, March 9, 2018 from 10am-11am prior to service. Interment will be held at Cape May County Veterans Cemetery, 129 Crest Haven Road, CMCH. Donations in Paul's memory can be made to the American Cancer Society, American Cancer Society, P.O. Box 22478, Oklahoma City, OK 73123. Condolences can be shared at www.EvoyFuneralHome.com.