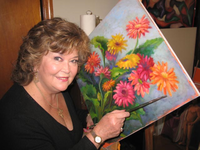 Rosalie Hettenbach
Rosalie H. Hettenbach died at her home in Cape May Courthouse, NJ on February 27, 2018, at the age of 77 years.
Rosalie is survived by her loving husband of 59 years, Fred W. Hettenbach; children, Gail (Chris) Hartnett of Clinton, CT, Nancy (Don) Embs of North Cape May, NJ, and Wayne (Kelly) Hettenbach of Arlington, VA; and brother, Joseph (Sherri) Abrams of Plantation, FL. Rosalie is also survived by five grandchildren; Jason and Jeremy Embs, Cassandra and Alaina Hartnett, and Tanner Hettenbach, as well as her great granddaughter, Michaela Embs.
She graduated from Irvington High School, and married Fred Hettenbach in 1958. The couple settled in Union, NJ, and later moved to Springfield, NJ, where they raised their three children. She worked as bookkeeper for Fred Hettenbach Plumbing and Heating business, and was a devoted wife and mother.
Rosalie was an accomplished artist, whose oil paintings have been displayed at many juried shows and local venues. She was passionate about her art, and found great joy in painting scenes of nature. Rosalie was a dedicated member of Cape May Lutheran Church in Cape May and a member of the Lower Township Gardening By The Sea Club.
A funeral service is scheduled for 10am Saturday, March 3rd at Evoy Funeral Home, 3218 Bayshore Rd., N Cape May; friends may call 6pm – 7pm on Friday, March 2nd, and again from 9am-10am on Saturday March 3rd prior to service. All are welcome to attend and celebrate Rosalie's life. In lieu of flowers, please send contributions to Cape May Lutheran Church, 509 Pittsburgh Avenue, Cape May, NJ. The family would like to thank her caregivers for their efforts in caring for Rosalie during her recent illness. Condolences can be shared at www.EvoyFuneralHome.com.