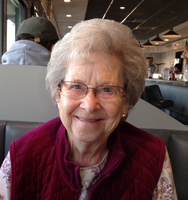 Marie A. Sproles
Marie Addington Sproles, age 85, passed from this earth to everlasting life on February 10, 2018 to be reunited with her beloved husband, Lawrence F. Sproles, her parents Arnold and Pearl Addington, and all her brothers and sisters.
Born in Dante, she graduated from St. Paul High School and lived most of her life in Castlewood, VA. She attended the St. Paul Assembly of God Church and later The House of the Lord in Castlewood. She enjoyed playing piano and organ for choir, vacation bible school, revivals and Christmas plays.
Marie is survived by her two children Darleena (Joe) Byrne of N. Cape May, NJ and son David (Neena) of Woodworth, LA. She is also survived by one grandson, David E. Sproles of Newton, NJ, as well as several nieces and nephews on both the Addington and Sproles side of the family.
Due to illness, Marie moved to New Jersey to live with her daughter in 2010 but her heart was always in her beloved Virginia and she missed her friends and family greatly.
A viewing will be held at the Castlewood Funeral Home on Thursday, February 15th from 6 until 8PM. A committal service will be Friday, February 16th at 11am at the Temple Hill Cemetery Chapel, with Rev. Ted Phillips officiating.
In lieu of flowers, the family asks that donations to the ministry of your choice be made in their mother's name.
Condolences can be shared at www.EvoyFuneralHome.com, or www.CastlewoodFuneralHome.com.